Material Recovery Plants (MRFs)
A sorting plant or material recovery facility (MRF) is a plant that separates a mixed waste stream into individual fractions. Under certain circumstances, the separated individual fractions are also processed until a certain quality is reached which enables material recycling by further processing companies. A sorting plant is an essential part of the concept of recycling management.
Material recovery facilities sort a wide range of recyclable materials, including but not limited to
Plastics (PE, PP, PET, etc.)
Paper and cardboard
Glass bottles and jars
Ferrous metals (Fe)
Non-ferrous metals (NE)
Internationally, two main types of sorting equipment are distinguished: clean and dirty. In Germany, a clean MRF corresponds to a sorting plant for material collected via the yellow bag/tonne, the so-called light packaging (LVP). A dirty MRF sorts classic household or residual waste.
Sorting plants are generally based on purely mechanical-physical separation processes and are therefore largely free of waste gas and waste water. Due to decomposition processes, however, significant odour nuisances may occur in and around sorting plants, so that exhaust air collection and treatment may be necessary.
The exact configuration of the different sorting aggregates is decisive for economic success and depends to a great extent on the composition of the mixed waste stream and the required qualities of the separated individual fractions. In this field of activity we support our customers in all planning phases and issues from the first idea to the implementation and commissioning.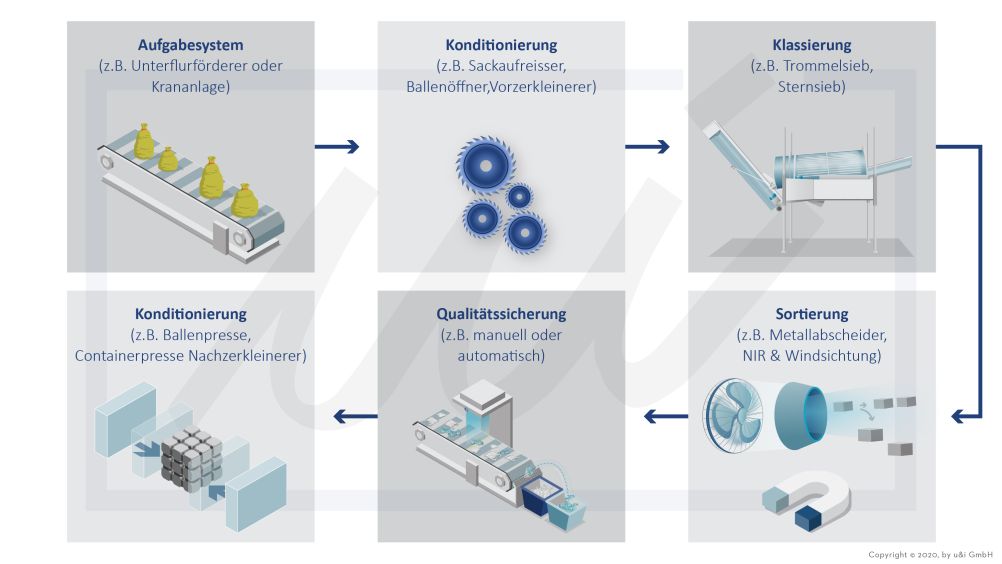 Please feel free to contact us.