Power-to-X
So-called Power-to-X systems represent an alternative to storage power plants. In these, electrical energy (power) is converted into substances that can be stored "better" than electricity. With this material form of energy storage, the power peaks from the renewable power generation of wind power and photovoltaics can be captured and converted into a storable form of energy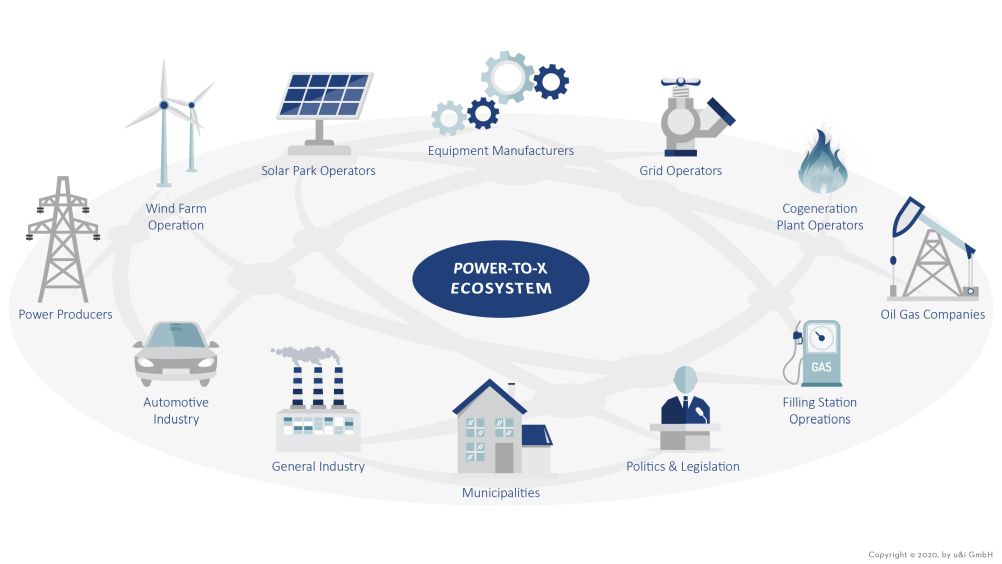 In addition, Power-to-X (or PtX) systems contribute to the sector coupling by more closely linking the electricity, heating, and mobility sectors. These systems will, therefore, make a significant contribution to the Energiewende, Germany's transition to a sustainable power sector, and climate protection in the long term. The above-mentioned projects are of particular importance in relation to a circular economy, whereby three forms of Power-to-X concepts come into play:
Power-to-Gas (PtG)
Power-to-Heat (PtH)
Power-to-Liquid (PtL)
Against this background, we develop and consider a wide variety of concepts from Power-to-X. These are specially adapted to any given site conditions so that synergies with possible neighboring industrial plants can be used to full capacity in the best possible way.
Of course, we support you both in the integration of Power-to-X systems in existing systems and in the construction of Power-to-X systems on the green field. In this field of activity, we support our customers in all planning phases and matters from the first idea to implementation and commissioning.
Please feel free to contact us.